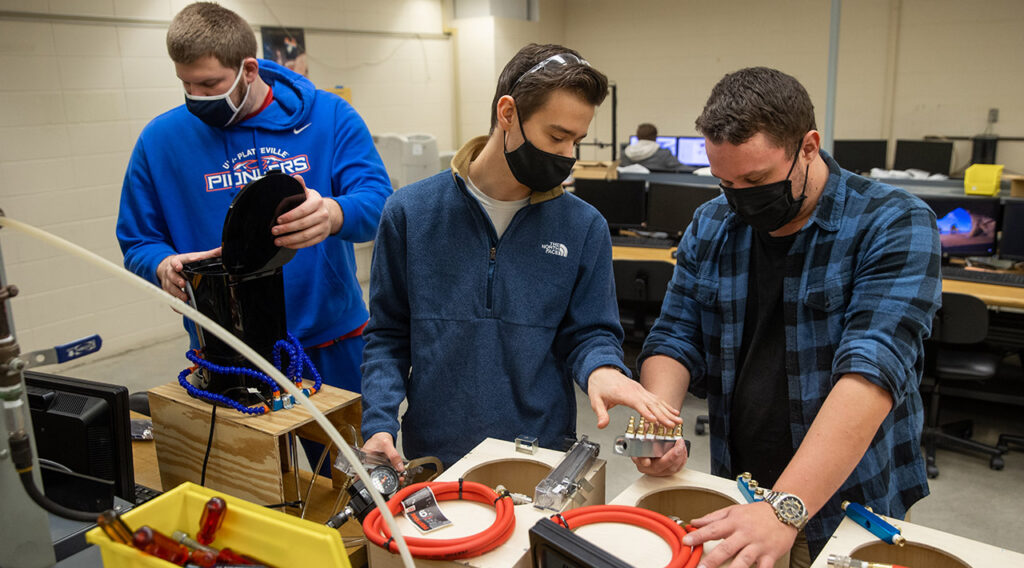 Engineering students at the University of Wisconsin-Platteville have participated in some of the new or redesigned home appliances recently hit the market and at trade shows, through a partnership between Spectrum Brands and the College of Engineering's Senior Design program, Mathematics and Science.
The Senior Design program pairs groups of engineering students with industry partners to solve real-world problems or create new products under the supervision of the industry partner and a faculty member. Over the past five years, Spectrum Brands has partnered with UW-Platteville on more than 25 projects. Products the students worked on included a cold brew coffee maker, smart blender, griddle, hair dryer, hair straightener, and pressure cooker, among others.
A 2019 project that tasked students with finding a solution to removing excess steam from the George Foreman grill resulted in the release of the new George Foreman Smokeless Grill series – which hit the mainstream market in 2020. The team of four mechanical engineering students was challenged with reducing the visibility of smoke – as a byproduct of cooking on the George Foreman grill – from a grade of 5, which is excessive smoke, to one, that is little or no smoke – while respecting constraints, such as maintaining the temperature of the grill and respecting a minimum cooking time. The students were able to design a prototype using an active fan-based solution. After 3D printing the prototype, they tested it against a control and proved that they can successfully stay within the constraints of the project and produce little to no smoke.
"Students at UW-Platteville take a pragmatic approach to problem solving," said Dave Everett, division vice president at Spectrum Brands. "They have the capacity to turn theoretical science into practical applications. UW-Platteville's senior design projects have been a key contributor in a variety of our innovative new products.
"All of our Spectrum Brands projects have provided students with interesting real-world challenges. When working on products they know and potentially use every day, it's easy for them to imagine walking into a store and seeing their work on the shelves. -Dr. Jessica Fick, Associate Dean, Special Projects
Students at UW-Platteville were instrumental in the design of another recent product from Spectrum Brands – the Steam Genie 2-in-1 Handheld Steamer by Russell Hobbs, which Everett says has received outstanding commercial feedback. . In 2019, a team of five mechanical engineering students designed a labyrinth for the steamboat that would convert all water to steam without leaking, regardless of orientation.
Students are currently working on two new projects with Spectrum Brands this semester. A group of mechanical engineering students have been tasked with reducing the time it takes to perform life cycle testing on Black + Decker coffee makers. Devices that involve heating during life cycle testing, such as a coffee maker, take longer to complete tests due to the cooling period required between each test. The students designed a fan and compressed air device that cool coffee makers faster, allowing the next brew to start with less delay.
"Spectrum Brands has given our team a great amount of creative control in this process and has provided us with the constraints to move forward through each phase of the design process," said Michael Zelinsky, one of the senior students in mechanical engineer working on the project. . "It was a pleasure working with the engineers at Spectrum Brands to develop the best possible solution as they were always available to communicate."
A team of 18 software engineering students are working alongside Spectrum Brands and Google to design a smart, cloud-connected toaster oven. The final product on offer will be a toaster oven fully controlled by a mobile app and voice controlled by a Google Nest or Google Assist app. This is a two-semester project. In the fall semester, students did extensive research, put together the requirements for Spectrum Brands, completed initial design and UI prototypes, and started initial development. The spring semester will focus on the development of the actual prototype.
"All of our Spectrum Brands projects have provided students with interesting real-world challenges," said Dr. Jessica Fick, Associate Dean for Special Projects at the College of EMS. "When working on products that they know and potentially use every day, it's easy for them to imagine walking into a store and seeing their work on the shelves. It's amazing to see two of these products make this thought a reality.
These two projects, along with more than two dozen others from various engineering disciplines and industry partners, will be on display at the Senior Design Open House on Friday, December 17th. Held every semester, the open house is open to the public and gives students the opportunity to present their projects and answer questions. For more information, visit www.uwplatt.edu/senior-design.