US SBA Administrator Visits West Philadelphia Businesses | Business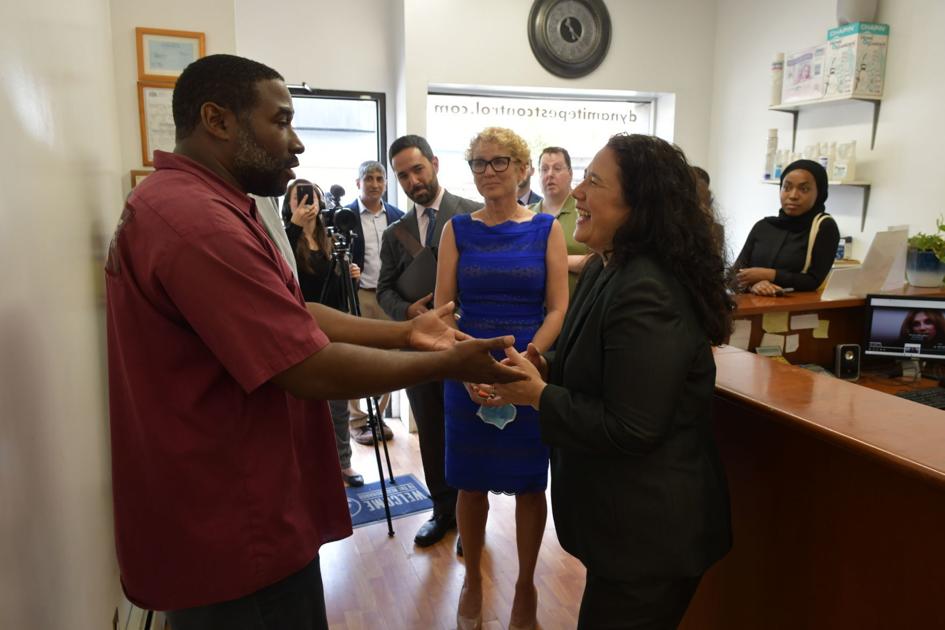 Richard Foreman Jr. tapped into funding from the US Small Business Administration when his West Philadelphia-based company was hit financially last year due to the pandemic.
Foreman, owner of Dynamite Pest Control, received an Economic Disaster Loan (EIDL) from the SBA to help cover his operating expenses.
"The SBA has helped us tremendously," he said, noting that the funding had helped him catch up on mortgage payments that were overdue.
His business, which was founded by his father Richard Foreman Sr., has been located on 52nd Street since 1969. Young Foreman became the owner of the pest control business when his father passed away in 2008.
When US SBA Administrator Isabella Casillas Guzman took a walking tour of the 52nd Street Commercial Corridor on Thursday, she stopped by Dynamite Pest Control and met Forman.
She was joined by U.S. Representative Dwight Evans, D-3rd District, and U.S. Representative Chrissy Houlahan, D-6th District, both of whom are members of the House Small Business Committee.
During their visit, they learned how Foreman's business performed during the pandemic and benefited from the SBA's programs.
As he reflected on the help the Small Business Administration gave, he remembered the days when his father struggled to secure financing for his business.
"I'm so passionate about this year compared to any year," Foreman said. "My dad started this business 10 years before I was born. I remember my dad struggling. I remember there were no things for the self-employed."
"Every year it's hard to keep the bills paid, to keep the insurance paid, to keep the taxes paid (and) to employ people," he said. "The self-employed – we jump on faith every day. "
"I can honestly say this was the first year the government was really like hey, you deserve help," Foreman continued.
Casillas Guzman also spoke with Tiffany Ward, owner of NV My Eyewear on 52nd Street. During the visit, Ward provided an overview of how his company benefited from EIDL funding and the Paycheck Protection Program (PPP) during the pandemic.
"COVID for a lot of people has been devastating," she said. "They couldn't survive this. I thank God that we were able to survive through this. Having these grants and being able to get some of these loans has really helped us stay afloat and still be able to provide a place for people to come to work.
After the walking tour, Casillas Guzman, Evans and Houlahan participated in a closed roundtable with small business owners at the Enterprise Center.
She traveled to Philadelphia to showcase the success of companies participating in the SBA's economic aid programs.
"I have traveled across the country just to try to visit companies that have received relief or not and I am trying to understand what they need now to continue to survive this disaster in which we are still at, in terms of recovery from COVID, "Casillas Guzman said in an interview with the Tribune.
"We know we've made a lot of headway in the US bailout by getting the shots fired so people can come together again in businesses and get back to work in a way that allows small businesses to open. . "
She had the opportunity to interact with a diverse group of business owners during a visit to Philadelphia and learn what they need to survive into the future.
"I've heard a lot about the companies in Philly," said Casillas Guzman.
"What I'm hearing is that a lot of companies need affordable capital and something that works for them in their business, which is why the SBA is looking at all of its programs."
"What we know is that businesses want revenue opportunities," she said. "They want to be able to stand up and prove their motto. I think the SBA is really committed to trying to create these opportunities for them, whether it's their contracts and President Biden recently announced an expanded commitment to help underprivileged businesses get more federal contracts by tripling the target of 5 % to 15% over the next few years donation. "
"So it's really about accessing the income and the opportunities to grow and rebuild better than before, because we want to see this growth equitably in all of our communities," continued Casillas Guzman.
She touted the SBA's initiatives for businesses affected by the pandemic, such as the $ 28.6 billion Restaurant Revitalization Fund, grants for closed site operators and EIDL programs.
"We absolutely want to make sure that small businesses are connected to these resources and that's also why I try to travel, just to make sure we have enough amplification of the resources available," added Casillas Guzman.
Casillas Guzman also stopped by Triple Bottom Brewing in the Spring Garden neighborhood of Philadelphia, which received funding from the SBA's Paycheck Protection Program (PPP) and the Restaurant Revitalization Fund.
Tess Hart, co-owner of Triple Bottom Brewing, said she has received two rounds of PPP funding. The first round ensured that they could pay their employees to stay home and be safe. Their employees were back on site when they got the second round of funding.
"In the second round of the PPP, we had people here and it really helped us offset the cost of the payroll because we're paying a living wage here," Hart said.
"So we're paying a lot more than the industry standard and during COVID we didn't generate a ton of revenue so it was expensive to do that, but we didn't want to somehow violate that commitment that we have. taken from our team here, so the PPP has really helped us keep going. "
"The Revitalization Fund was just this wonderful gift that made us really think about rebuilding in a way that felt safe and less day to day," she continued.
"We could pay off some lines of credit and it didn't feel like we were hemorrhaging money on expensive credit and reopening this place."