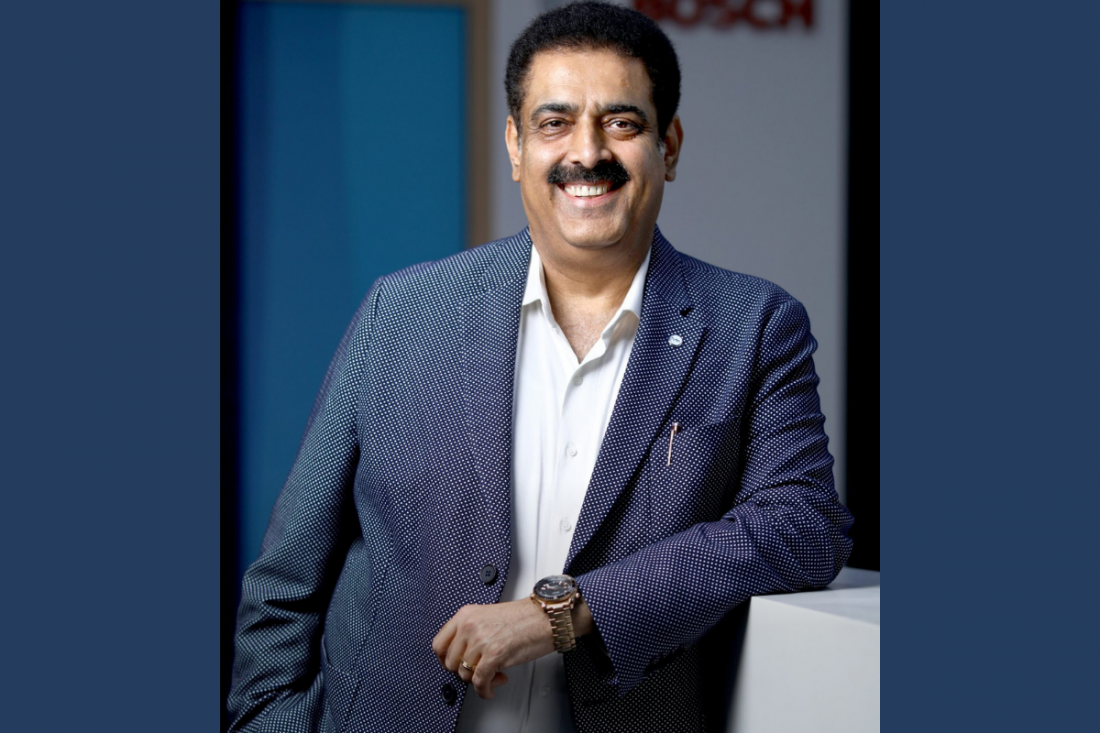 Having become Managing Director and CEO of BSH Household Appliances just six months before the pandemic hit, Neeraj Bahl had to ride out the storm. Instead, he went on the offensive and made Bosch a household name for Indian consumers.
He faces life's hardships head-on – a trait he cultivated early on to reach the heights of enterprise usually reserved for Indian graduates of institutes of technology or management. "First, I've never said no to any place in the country, and second, I've never said no to any transfer or position," he told CEO Magazine.
In a career spanning over 25 years, Neeraj has donned many hats. Prior to joining BSH, he worked at companies such as Samsung, LG, Electrolux and Panasonic. "It gave me a complete understanding of business," he says. "I can empathize with the product guys, the marketing guys, the front line people and I understand sales like the back of my hand. So that helped me change the fortunes of BSH India.
Neeraj's experience and resilience had an immediate impact on the business. "BSH India has seen many changes over the past two years. I worked very hard on the brand awareness, which increased significantly," he shares. "I also realized that we were sorely lacking in networking and that we weren't taking advantage of our brand message. Bosch is a premium brand in the eyes of the Indian consumer, but our sales have not matched it.
The lack of trust in the sales team was evident, but since the team worked on it, he says their premium contribution for washing machines has increased by more than 200%.
Neeraj has differentiated BSH products in the market in three ways: by focusing on brand value, by enabling sales and marketing teams not to succumb to market pressure, and by not settling for numbers. His fourth point has become a priority for BSH in India. "We are not afraid to raise prices because we have to create our own line of strategy," he reveals.
"We only focus on getting the right kind of channel and the right kind of placement. Fortunately, price is not an issue because customers only expect and accept high quality products from Bosch.
BSH's recent success in India is based on the relationships Neeraj has cultivated with suppliers and partners. "Because we were honest and thorough with our suppliers, they helped us through the first three months of the pandemic," he recalls. By building fantastic relationships with local suppliers, he was not only able to increase mixer grinder sales fivefold, but also solve the problem of product shortages.
A leader must be a visionary who can think of constant growth in every area, in every product.
When the market opened post-pandemic in June 2020, it was volatile due to a lack of sales and poor credit. While most companies have looked inward, BSH has gone the other way. "I told my team to trust the business and trust our employees. Now is the time to stand with our Indian brothers and partners," he recalls.
"As management, we absolutely took the opposite call. It was a difficult time when our people needed us the most. So we offered the highest bonuses and promotions ever on April 1, 2020. This sent a positive note to the team and the results are before us.
Neeraj believes in forming a tight circle of primary suppliers. BSH has 20 leading partners contributing significantly to the business, with major Indian suppliers supplying washing machine parts, spares and finished products. "We take care of them as much as possible," he confirms.
Performance Plus
"We had a revised figure from our headquarters to reduce sales by 25-30% in 2020," Neeraj explains. "Our teams were so motivated that India was the only organization out of so many BSH countries to achieve Gold Medal. In the end, we achieved single digit growth. I dedicate it entirely to my teams .
"Our medium-term objective is to grow four times in four years. We have a very, very aggressive growth plan to almost double every year," says Neeraj. He says BHS aims to achieve this by manufacturing its existing product lines in India and introducing new products for the Indian market. This includes hood chimneys, cooktops, and newer types of refrigerators, washing machines, and blender grinders.
In the short term, he laid out his plan. "My goal for the next 12 to 18 months is to get better raw materials and make sure we don't lose our top line or bottom line."
Although he is optimistic about the future, Neeraj knows the importance of sustainable growth. "I don't believe in growth without profit and growth that is not sustainable. A leader must be a visionary who can think of constant growth in every area, in every product. And it must be better than last year.
Neeraj's vision prevails at BSH India: "Bosch is the most ambitious home appliance brand in India. This is my dream and this is what we are going to achieve.
"Dixon Technologies, India's leading electronics manufacturing services company, is pleased to partner with BSH for the manufacture of fully automatic washing machines. BSH's technology combined with Dixon's manufacturing expertise is sure to serve up the best products. – Atul B Lall, Vice President and General Manager, Dixon Technologies
Proudly supported by: