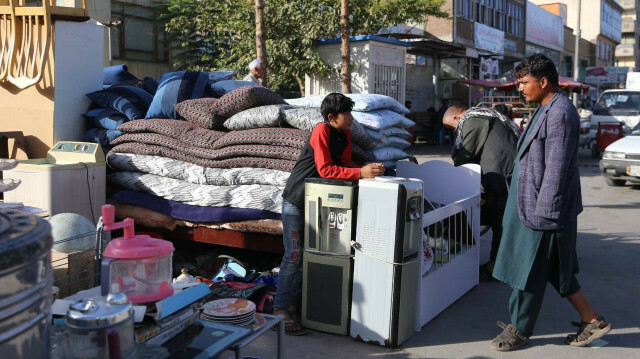 Shortage of cash, unemployment, reduction of international aid, main factors of aggravation of the economic crisis

As life returns to normal in the capital Kabul, low-income Afghans sell their household items on the second-hand goods market due to the escalating economic crisis following the takeover of Afghanistan by the Taliban last month.
After the fall of the Afghan government on August 15 and the subsequent closure of banks for about two weeks which created a shortage of cash, the Afghan people faced increasing unemployment and poverty and were forced to sell their items. household.
Sofa sets, rugs, kitchen utensils, old televisions, used sewing machines and rugs, and beds from the 1990s are among the goods for sale on the second-hand goods market.
Traders working in the market in the locality of Proja-e-Taimany in northwest Kabul said the inability of banks to meet people's cash needs, unemployment of former government employees and a decrease in international aid are the factors that aggravate the economic crisis in the country.
"People are selling their stuff. Their concern is not to flee the country, but to buy a pittance. They are doing this for lack of money," store owner Sirajeddin Ahmedi told Anadolu Agency.
"When we look at other countries, they are peaceful and developing. Our future is uncertain because of despair and poverty. All people want to go to foreign countries because of the security issues," said another trader, Mansur Ganizade.
The World Bank, International Monetary Fund (IMF) and US Central Bank have already blocked Afghanistan's access to international funds due to a lack of clarity on the country's governance structure in recent weeks.
The UN, in a report released last week, warned that more than 97% of the Afghan population could fall below the poverty line by mid-2022.
Some 40% of Afghanistan's GDP has come from international aid over the past 20 years.
As many countries have refused to recognize the Taliban government, experts have warned the country is rapidly heading towards economic disaster. The Taliban announced a 33-member interim cabinet last week.
* Written by Zehra Nur Duz