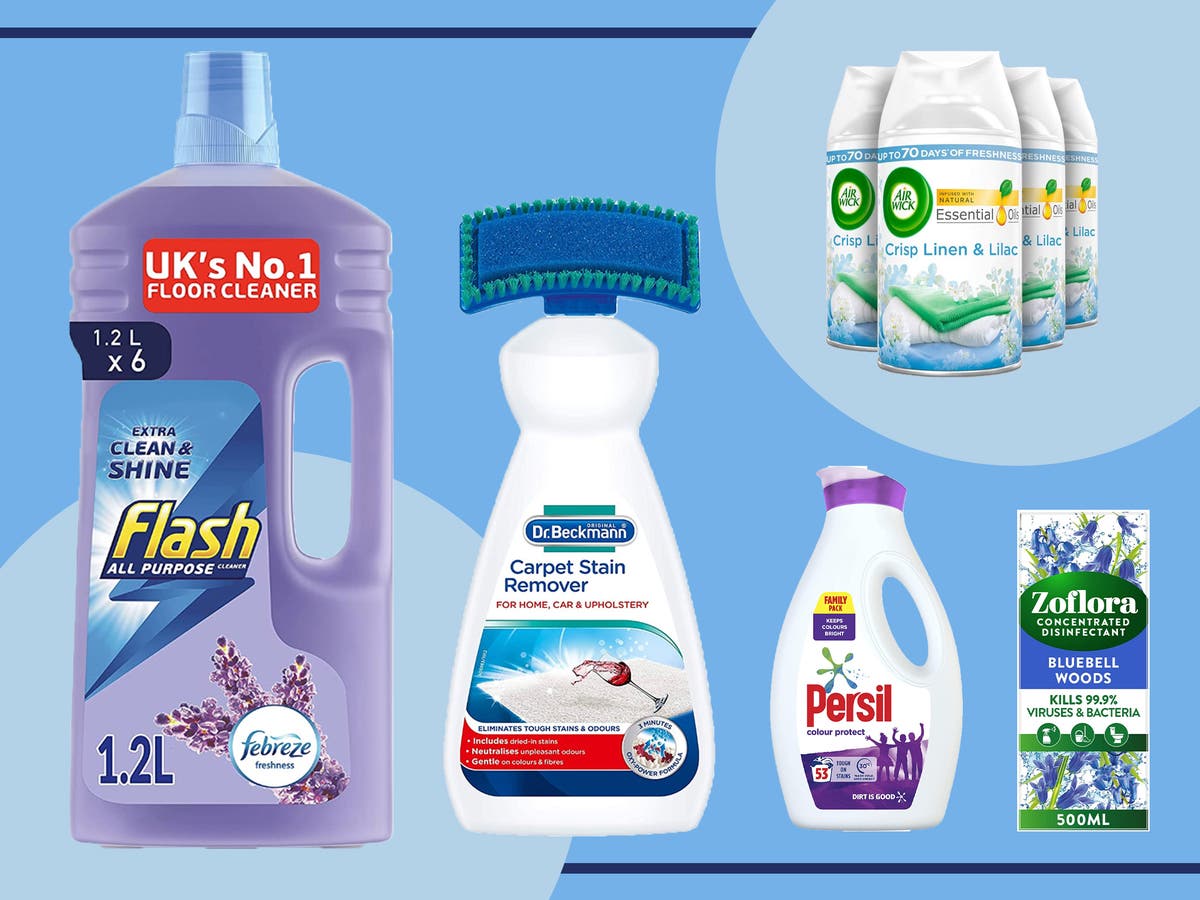 Attention in-the-know shoppers, Amazon's Prime Early Access sale — otherwise known as its second Prime Day event of the year — is well underway.
Much like its usual 48-hour shopping, there are huge discounts on tech, laptops, TVs, Amazon-branded appliances, appliances and, of course, household essentials.
Follow live: Read our Amazon Prime Day 2022 live blog
Offering the perfect opportunity to save money on everything from cleaning supplies and pet food to toilet paper and diapers, the shopping bonanza is the perfect time to stock up on essentials.
There are awesome discounts on all your favorite brands, including Fairy, Finish and Dettol, leaving you well equipped to tackle everyday household chores.
So if your cleaning cart, bathroom and kitchen all need stocking up, you'll find all the best deals on household essentials below. Or you can check out our main Prime Early Access 2022 sales guide to stay up to date with our coverage on all the best deals.
Read more:
Felix As Good As It Looks Cat Food: Was £52.54, now £38.66, Amazon.co.uk
This pack of 120 sachets of cat food is 26% off the Prime Early Access sale, bringing your cat's meal price down to 32 pence per serving. Inside the box you'll find a mouth-watering selection of beef, chicken, tuna and cod in jelly, and when the box is empty it becomes a free toy for your furry friend.
Buy now
Finish Ultimate Infinity Shine Dishwasher Tablets: Was £30, now £12.75, Amazon.co.uk
If you're short on dishwasher tablets, grab a bargain on this pack of 100 while it's just under 70% off. Promising to keep your glasses, dishes and cutlery squeaky clean and shiny in just one wash, stock up before your dinner plans this holiday season.
Buy now
Dettol Wipes Bulk Antibacterial Surface Cleaning: Was £36, now £14.99, Amazon.co.uk
For easy all-purpose cleaning, this six-pack of Dettol antibacterial and odorless wipes comes in handy for a quick cleanup. They are suitable for wiping surfaces in the kitchen, bedroom and bathroom, as well as baby equipment such as high chairs. And with they're currently 58% off, now's the perfect time to stock up on this cleaning essential.
Buy now
Spontex easy max+ Microfiber Flat Mop: Was £17.61, now £12.72, Amazon.co.uk
There's almost 30% off this microfiber mop from Spontex in the Prime Day sale. The large, flat, rectangular head can easily pick up dirt and dust and is suitable for all types of hard floors. When you're done cleaning, just throw it in the washing machine. The handle is also telescopic, extending from 80cm to 130cm, and it can be neatly stored away when not in use.
Buy now
Non Organic Fairy Platinum Pods, Liquid Laundry Detergent Tablets: Was £36, now £27.20, Amazon.co.uk
Quickly get through your laundry pile with this pack of 60 detergent tablets from Fairy. Thanks to the Prime Day sale, it's almost 25% off, and with 120 pills in total, it'll last you months. Designed to keep your clothes soft and stain free, they are suitable for even the most sensitive skin. No matter how clumsy or messy eater you or your kids are, it's a saving money you can't miss in October.
Buy now
Freshmatic Automatic Spray Refill for Air Wick Air Freshener: Was £17, now £9.30, Amazon.co.uk
If you own a Freshmatic Automatic Air Wick Air Freshener Spray, now's your chance to stock up on refills with this four-pack – now 41% off in the Prime Early Access sale. With its cherry scent, it's an easy way to keep your home fresh without worry.
Buy now
Mum and You, Size 4 Diaper Pants: Was £9.95, now £4.97, Amazon.co.uk
The amount of diapers you spend with toddlers is endless, so ease your bank balance with this offer in the Prime Early Access sale – Amazon has reduced the price by 50% for 44 diapers. Promising to be suitable for sensitive skin, these cotton nappies have a wetness indicator so you'll know when they need a change, and the packaging is recyclable.
Buy now
Fresh Duck Disc Toilet Cleaner Starter Pack: Was £21, now £12.71, Amazon.co.uk
Keep your toilet clean and odor free with these lime scented discs from Duck. With nearly 40% reduction, they're a fast-acting solution to limescale buildup and stains that can harbor germs. Simply load the disc and dab on the side of the bowl. As soon as you flush the toilet, it gets to work.
Buy now
Fairy maxpower washing up liquid, 540ml: Was £26, now £16.29, Amazon.co.cuk
Washing the dishes isn't anyone's favorite job, nor do they dwell on it and realize you're out of dish soap. Save a late trip to the stores by picking up this massive eight-pack of 540ml bottles from Fairy maxpower, which is currently 23% off in the Prime Day sale and promises to tackle greasy pots and pans with ease.
Buy now
Vanish Gold oxi action carpet cleaning kit: Was £16, now £11.45, Amazon.co.uk
This handy spray is much cheaper than a larger, more technical electric carpet cleaner, and now it's 28% off, too. Simply spray on stained areas – including wine spills, coffee or muddy paw prints on carpets and upholstery – and gently rub with a dry cloth to leave your floor looking like new.
Buy now
Discount Codes
For the latest home appliance discounts and more deals, try the links below:
Learn more about the Amazon Prime Early Access sale:
Your Complete Guide to Amazon Prime Day 2 – For all the best deals, from the Apple Watch 7 to Simba mattresses and the Instant Pot
The best Prime Early Access deals for home and kitchen – We see significant savings on brands such as Bosch, Russell Hobbs, Shark and Ninja
Cutting-edge technology in the Amazon Prime Early Access sale – These are the best gadgets to buy, whether you're looking for a new tablet or headphones
October Prime Day laptop deals – We've rounded up the best savings on top brands including Dell, Lenovo and Microsoft Surface
Amazon Prime Early Access Apple Deals – Our experts have found significant savings on the Apple iPhone 13, Apple Watch SE and more
The Prime Early Access Sale TV deals you need to know –Amazon offers significant savings on OLED and QLED screens
Amazon Device Deals – Early Access Sale is the perfect time to save on the Echo Dot, Ring Doorbell, Kindle and more